Customer Software Development
Veave custom application development services enable you to create, deliver and drive business value from investments in custom software solutions. Our experts leverage domain and technical expertise to deliver insights that enhance business outcomes for our clients. Our architects and developers use, process-driven approaches, methodologies, development accelerators and test frameworks to ensure quality, scalable and efficient solutions.
Enterprise Application Development
Organizations looking to build highly scalable, secure, tiered and service oriented applications can leverage Veave to address their unique business challenges cost-effectively.
Application Migration
Breathe new life in your legacy applications with our application migration services. Our migration experts use a proven migration approach, along with time tested processes, migration automation tools and frameworks, to minimize re-engineering.
Application Integration
Our Application Integration services can help you automate businesses processes and workflows distributed across disparate business organizations, departments and applications. Veave offers services for integrating enterprise applications, business-to-business systems, business processes, legacy and third party systems.
The Veave Advantage
Mature and reliable partner who understands your challenges.
Predictable quality and timelines leveraging our processes and frameworks.
Technology Eco-System Partnerships with major platform vendors.
Web Development
Veave has a brilliant team of professionals to project the website development according to the needs of the client. Understanding the business logic and the desired goals of your web application, helps us to in delivering applications that are designed to improve the satisfaction of end users while increasing their productivity by providing engaging, rich user experiences.
Veave uses strong backend architecture coupled with the best technologies, such as Yahoo YUI, Scriptolous, DoJo Toolkit, Prototype, JS.Ext, Silverlight, Flash, AJAX, ASP.NET, PHP, Java, MS SQL Server, MySql, PostgreSQL, and more to build practical and easy-to-implement applications for our clients. Veave develops advanced web applications that can handle mass amounts of data and transactions. It doesn't matter how small or big your company is we have Web Development solutions for any size of budget.
Mobile Application Development
Mobile solutions can help you boost real-time access to critical business information, while reducing costs and enabling faster decision making. Veave provides companies with mobile app development services for mobile enablement of enterprise-grade applications and software.
Veave's expert consultants will transform ideas to a rich, scalable and reliable mobile application solution keeping in consideration to your time-lines. Our experts will study your existing applications and services to create powerful mobile applications through mash-up. Veave does not focus on mobilizing the desktop applications, Veave works with you to improve the existing processes by leveraging the unique aspects of the mobile platform such as touch interface, voice, geo-location, video while working with limits such as small screen.
Platforms
Veave currently focuses all its development efforts on iPhone, iPad, Android, Windows and Blackberry platforms. For suitable projects, Veave utilizes PhoneGap, a cross platform framework.
Enterprise Application Development
Web applications that are specifically targeted for mobile devices are highly effective way to bring new applications to the market quickly. This is also highly preferred when your application mostly focuses around textual and numeric data. By combining HTML5 and other related technologies Veave can develop mobile web application that can deliver great user experience and can be run on a wide variety of devices. Since there is no client application to maintain and deploy, overall investments are a fraction of the native applications.
Application Management
Analysts estimate that enterprises are spending two-thirds of their IT budget on ongoing maintenance and support of business applications. Organizations looking to control these costs through Application Maintenance and Application Support Outsourcing are faced with challenges of quality, risk, changing business needs and technology integration. IT departments faced with these challenges on their application portfolio investments are moving beyond the traditional labor arbitrage approach to Application Management Outsourcing and seeking measurable results in terms of responsiveness to business needs and reliability.
Veave's Application Management Services offering provides a low-risk approach that is measurable, repeatable, and can be managed across multiple platforms and architectures. Our goal is to help clients accelerate business value by enabling smart application portfolio decisions that improve quality and results.
Managed Application Services Consulting
Application Portfolio Assessment
Application Offshoring Analysis
Application Outsourcing
Incident and Problem Management
Build & Release Management
Application Upgrades
Helpdesk Support
Planned Maintenance
Managed Services for Microsoft Applications
SharePoint Managed Services
SQL Database Managed Services
Dynamics Applications Managed Services
Azure Managed Services
Active Directory Managed Services
System Center Managed Services
Quality Management and Certification
Veave offers CMMI Consulting, Training and Appraisal Services, ISO Consulting and Certification services across the globe.

Our subject matter experts (SME's) have provided consulting to some of the world's leading organizations spanning verticals such as defense, banking, utilities, retail, railways, telecom, infrastructure and information technology. Veave experts have worked in Singapore, Australia, New Zealand, South Africa, Mozambique, Iran, Saudi Arabia, UAE, Kuwait, Oman, Bahrain, Qatar, USA and India, etc.
Our consultants have implemented process improvement programs for clients using various international quality frameworks/models that include ISO 9001, ISO 27001, ISO 20000, CMMI, ITIL, ISO 22301, ISO 14001, ISO 18001, ISO 22000, HACCP, ISO 13485, ISO 17025, TS 16949, AS9100 and CE Mark among others.
All our consultants are industry experts and certified Lead Auditors.
Veave adopts a partnership approach to all engagements by providing help and guidance to the client's core team, to have a sustainable system.
100% success rate, have executed over 1100 projects, working with 30 different standards in 20 different countries and 30 different certification bodies.li>
Profit oriented approach (directly or indirectly improving the organization profits in short / long term in a sustainable way).
Minimal documentation. Sufficient and realistic, more focus on industry best practices.
Post certification support. Regular visits to ensure system in shape & support during surveillance audit.
Cost effective and value for money.
Our focus is on improvement. With right practices put in certification is just a by-product.
Infrastructure Management
Veave has over 8 years of experience in design, delivery, deployment and support of complex IT infrastructure environments. Veave's engineers have an extensive portfolio of technical skills. The experience and skills span multiple products, technologies, vendors and platforms. Its depth of technical skills ensures that IT incidents are handled efficiently and effectively. With a well structured escalation matrix that maps onto high levels of skills, Veave ensures high quality of service, and very high levels of availability of the IT infrastructure.
Veave has the knowledge, experience and portfolio of skills and services to manage complex and enterprise IT infrastructure environments.Veave Application Management Services comprise of:
Services Portfolio

Areas covered by our IM team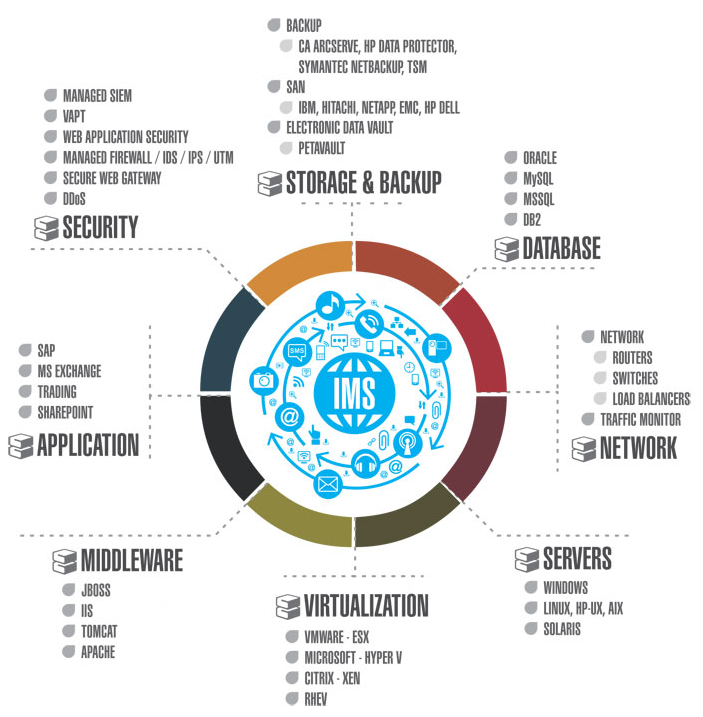 Staff Augmentation
With the technology landscape changing rapidly, organizations struggle to keep up with the demands of the new economy. In the interim however, older legacy technologies require continuous maintenance and upgrades which has facilitated higher demand for the right people.
The need to maintain and enhance legacy systems also can facilitate the need for other resources. From COBOL and .NET, to DB2 and JAVA, organizations need reliable and knowledgeable resources that can answer the call of the new economy.
Using a combination of tried and tested traditional techniques along with new age technology; recruiters can effectively source for the right candidate. However, utilizing this mix correctly based on a tried and tested methodology holds the key - working from the beginning of the requirement to the first day of employment and beyond.
For over 8 years Veave has provided resources for a wide range of departments within client organizations. Using a combination of traditional and new age methods, we are able to resource and retain top candidates for multiple requirements.
Staff Augementation Life Cycle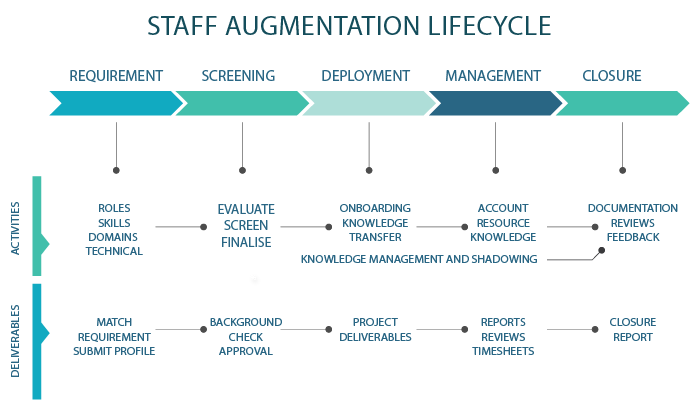 Corporate Training
The bar for staying competitive in any marketplace keeps rising. Veave recognizes that no matter what size your company, your education and training budget needs to show as much return on investment as your other business decisions. Our training solutions have kept businesses—from startups to global enterprises—ahead of the business curve.
Veave has helped companies see tangible, measurable results by continuously upgrading the capabilities and skills of their most important assets with the most in-demand training solutions. Whether your company is 50 or 50,000 strong (or somewhere in between), Veave creates unique training and professional development solutions that work.
We understand these needs and have responded by tracking, reporting and improving upon the metrics that matter most to you.
Over 98% of our clients utilize knowledge and skills gained in the classroom on the job. Over 50% of performance improvements realized on the job are directly attributable to the training obtained in our classrooms. As experts in creating learning programs for adult learners and knowledge workers, Veave helps customers achieve better business results through training every year. We continue to expand our offerings, locations, and learning methods to meet the growing demands placed on organizations and their employees. We have the technical expertise and practical experience to provide the right training solutions, the right way, at the right time to empower success.
Business Process Outsourcing
With a tough economy putting pressures on margins and technology empowered customers demanding best in class service, companies are struggling to maintain profitability. Business Process Outsourcing (BPO) is a strategic step for companies looking to improve service levels, reduce costs, streamline processes, improve process efficiencies, and gain access to best-in-class processes without investing in requisite technology and skills.
Today, customers want to partner with BPO vendors who can add value to their business and provide competitive differentiation. Veave helps companies seeking new ways to achieve high performance in their business operations by providing technology-enabled business process services to help them deliver business outcomes beyond operational cost reduction. Typical business outcomes delivered include helping clients increase their revenues, customer reach or further decreasing costs beyond the labor arbitrage type savings that have traditionally driven business process outsourcing.
Business Value
Experience Results
Improving efficiencies and effectiveness:
Up to 25% through automation
Up to 100% benefit from process optimization
Up to 30% labor cost reduction
Experience Partnership
Partnering in Business Success:
Work smarter
Improve risk management
Get to market faster